Our assisted living communities offer an alternative to traditional nursing care.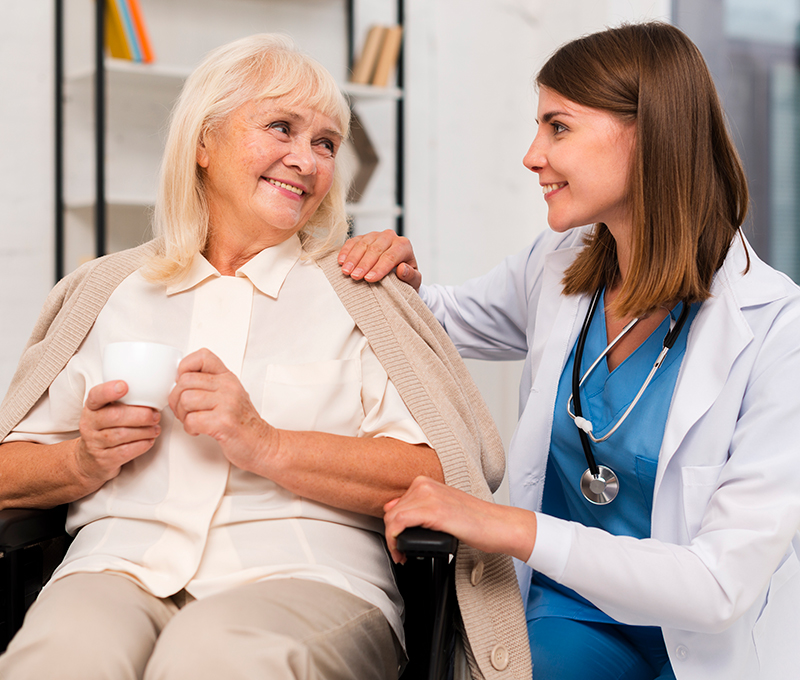 When you value your independence but recognize the need for some daily support, assisted living provides the support you need. We have a variety of living arrangements, personal care services, menu options, social activities and amenities. We understand that seniors have varying needs, it is our mission to promote independence, dignity, and quality of life. Our goal is to provide a broad range of options that help seniors enjoy a full life, while providing the professional assistance necessary for any who may need a helping hand.
Our environment is designed to feel like home while supporting the physical, emotional and intellectual needs of our residents. Choices begin with living accommodations designed for those who don't require 24 hour care and prefer privacy, but not to live alone. We have conveniently located our assisted living communities on the same campus as our nursing centers when available. Residents can then easily access physical therapy, occupational therapy and speech therapy programs if the need arises. As requirements change and long-term care concerns need to be addressed, we offer a natural transition within a familiar environment.
We examine long-term care insurances and are a Medicaid waiver provider. We review Medicaid waivers from the community and from those residents who already reside in our community for at least one year. Schedule an appointment today and we will help you navigate through your unique financials.
---
Services and Amenities
We understand seniors have varying needs, and at St. Catherine's Manor of Fostoria,
our mission is to promote independence, dignity, and quality of life. Our goal is to
provide a broad range of options that help seniors enjoy a full life, while providing
the professional assistance necessary for any who may need a helping hand.
Clinical services
Licensed nurses 24/7
Pharmacy delivery
Medication management
Personal care assistance
Physical, occupational and speech therapy available
Respite care
Home health and hospice
Other Services
Residents of St. Catherine's Manor of Fostoria may take advantage of the following, at reasonable prices:
Beauty/barber services
Telephone
Guest meals
Our unique, all-inclusive pricing includes:
Apartments with furnished kitchenette
Full schedule of recreational activities
Weekly housekeeping & laundry services
Medication administration
Emergency call system
Religious services
Regular shopping trips
Cable television
3 Meals per day
Internet
Assistance with scheduling medical transportation
---
Accommodations
Peace of mind starts at St. Catherine's Manor of Fostoria
We have created a comfortable and safe home for you or your loved one. Nestled in a residential cul-de-sac, St. Catherine's Manor of Fostoria Assisted Living features a sun room, lounge with fireplace and a large dining room.
Attractive suites to suit your tastes
We offer distinct floor plans to meet the needs of every resident. Each suite features all the comforts of home including carpeting, window treatments, large private bath with walk-in shower, individual storage space for each apartment, individually controlled heating and air conditioning units, and a kitchenette.
Personalize Your Apartment:
Residents are encouraged to decorate their suites as they wish with personal furnishings, mementos and accessories. We gladly welcome small pets.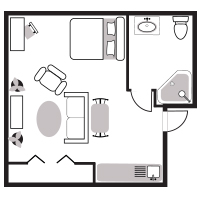 Studio Apartment:
A one room convenience space, with a kitchenette and a large closet.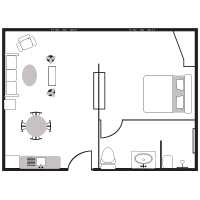 One Bedroom Apartment:
Featuring it's spacious living quarters, a separate bedroom, and kitchenette.
---
Respite Stay
Respite Stay is a convenient option when planned or unforeseen circumstances require you to seek temporary senior housing and care for your loved one. Respite provides temporary relief and peace-of-mind knowing your loved one is getting the high quality care they deserve while you are away.
A Respite Stay is often used when:
You have a planned business trip or vacation
You need an occasional helping hand or deserved break
You would like to trial or ease your loved one into the care community
Your loved one needs a temporary break
St. Catherine's Manor of Fostoria offers:
Person centered care
Secure and safe environment
Trained staff available 24 hours a day
Restaurant style dining
Respite Stay Services
The services and amenities available to traditional patients are also available to respite guests, this includes:
Furnished apartment
Three daily nutritious meals
Medication management
Daily personal care
Housekeeping & laundry services
Activities and outings
Additional respite care options are available based upon your loved one's needs.
---
Social Enhancement
At St. Catherine's Manor of Fostoria, we take great pride in balancing any medical, rehabilitative or therapeutic needs of our residents with their desire for independence and social interaction. Our programs and services are designed to provide quality of life and a sense of well-being.
We offer a comfortable home where residents can reside in privacy but still have access to a variety of social activities within the building and in the neighboring community.
Person Centered Care
Just as you value your choices, we value respecting them. The core values behind Person Centered Care allow for individuality, preference and dignity coupled with a sense of community in a home-like environment.
Some of the many social benefits residents enjoy are:
Active resident council
Social outings
Live entertainment
Exercise classes
Flexible visiting hours
Variety of group activities and games